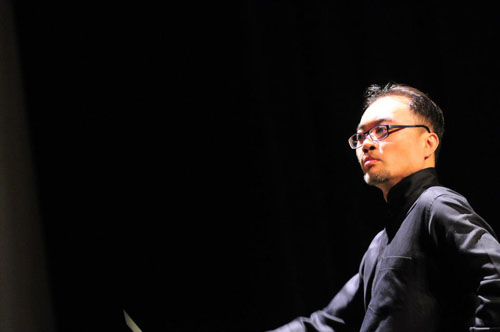 Cheng Li-Pin is one of the most regarded and outstanding conductors of Taiwan. He employs profound interpretation on an extensive repertoire. From classics of symphonic works to contemporary innovative works, he always ensures orchestras to achieve the best performance through highly efficient rehearsals, making him one of the most respected conductors among musicians.
Originally from Kaohsiung, Taiwan, he received complete music education in Taiwan from the level of elementary school to a master's study. His success and activeness proved Taiwan's capability to train top-tier musicians. His music learning began with piano and violin, as well as the traditional instruments of sheng and erhu. He received his professional conducting training from maestros Henry Mazer, Sung-Jen Hsu and Felix Chiu-Sen Chen, and finalized it with a master's degree in conducting from the Taipei National University of the Arts. In March 2006 he was invited to join the master class of the contemporary Maestro Lorin Maazel, where he received the Maestro's approbation.
While as an undergraduate student, he started to display talents of conducting and he was the Founder, Music Director and Conductor of the Kuan-Du Chamber Orchestra. From 2003 to 2004 he was the Assistant Conductor of Taipei Symphony Orchestra, in charge of regular rehearsals and concert conducting. Moreover, he has been invited as a Guest Conductor for National Symphony Orchestra, National Taiwan Symphony Orchestra, Kaohsiung Symphony Orchestra, Evergreen Symphony Orchestra, Taipei Chinese Orchestra, National Chinese Orchestra Taiwan, and Kaohsiung Chinese Orchestra, as well as the Symphony Orchestra of Anhui Province and Xiamen Orchestra in China. He also published seven recorded works: 'Festival Overture' (with Taipei Symphony Orchestra, 2004), 'Double Happiness' (with Taiwan JustMusic Philharmonic Orchestra, 2008), 'Bird's Eye View' (with National Taiwan Symphony Orchestra, 2009), 'The Sound of Matzu' (with National Chinese Orchestra Taiwan and Taipei Philharmonic Chorus, 2011), 'Nan-Chang Chien: The 12 Animal Signs of Chinese Zodiac' (with National Chinese Orchestra Taiwan and Taipei Philharmonic Chorus, 2013), 'The Voice of Taiwan 09' (National Symphony Orchestra, 2013) and 'The Voice of Taiwan 10' (National Symphony Orchestra, 2014).
In 2006, he expanded his conducting footprints onto the stages of Chinese orchestras, and currently he is one of the rare conductors who have experiences and capability both for Western and Chinese orchestras. Additional to concerts of standard repertoires of Western and Chinese orchestras, Li-Pin Cheng's endeavors include the promotion of modern Taiwanese compositions through conducting. With the Taipei Philharmonic Youth Orchestra, where he is the Music Director, he persistently produces concerts of Taiwanese compositions. In recent years, his performances have been magnificently successful among international critics and audiences in China, Malaysia and Hong Kong. In October 2013, as the replacement of Kristjan Järvisudden medical absence for a concert of National Symphony Orchestra at National Concert Hall in Taipei, Li-Pin Cheng's conducting was also a great success.
In the past eight years, Cheng Li-Pin has been an Associate Professor at the Department of Chinese Music, Chinese Culture University, and he also serves as the Music Director and Principal Conductor of the Taipei Philharmonic Youth Orchestra. He is also frequently invited guest conductor for many Western and Chinese professional orchestras in Taiwan, and starting in 2007 he has been a music program Committee Member of the National Chang Kai Shek Cultural Center. Through the 2015 select of appointment, he assumed the position of the General Director of the Taipei Chinese Orchestra and is widely expected to lead the Taipei Chinese Orchestra to achieve higher artistic excellence.

In 2017, Cheng Li-Pin won "The Golden Melody Awards For Traditional Arts and Music for Best Interpretation of Conductor" with the album of Sketches of Taiwan.