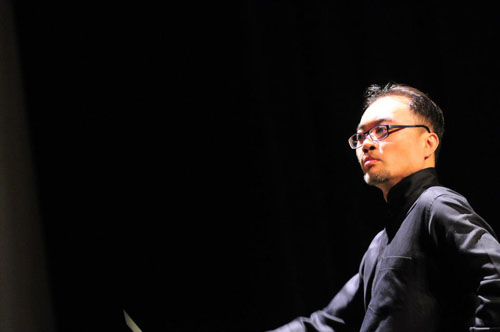 CHENG Li-Pin is one of the most widely-acclaimed conductors in Taiwan. Noted for a versatile repertoire and profound interpretation of the pieces, members of the orchestra can always unlock their potentials at his guidance, no matter the nature of the pieces.

CHENG graduated with a Master's Degree in conducting from Taipei National University of the Arts. He was mentored by many maestros, including Henry MAZER, Sung-Jen HSU and Felix Chiu-Sen CHEN. In March 2006, he joined the master class of the contemporary Maestro Lorin MAAZEL, where he found great validation from the maestro.

From 2003 to 2004, CHENG served as the assistant conductor of Taipei Symphony Orchestra. He has been invited as a guest conductor for numerous Chinese and Western Orchestras. Invitations from China, Malaysia, Hong Kong, Japan, and America have also arrived for CHENG to perform there, where he plied his trade. Moreover, CHENG is committed to conducting and promoting pieces by Taiwanese composers, insisting on including works by Taiwanese artists in the concerts. He also published 13 recordings.

In 2017 and 2018, CHENG won the Golden Melody Awards for Traditional Arts and Music for "Best Interpretation - Conductor" and "Best Album Producer Award" respectively.

In between 2007 to 2015, CHENG served at Chinese Culture University, Chinese Music Department as associate professor. He was appointed the general director of the Taipei Chinese Orchestra in 2015, and widely expected to lead the TCO to new artistic heights.